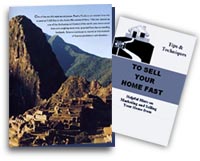 Information marketing infuses free information about a product or service along with the regular sales pitch. Unlike the decoder ring in a box of Cracker Jacks, info-marketing provides the free prize before any purchase has taken place. It appeals to consumers much more, because they don't feel as though they are being approached by a pushy salesperson. For this reason, info-marketing can be a great vehicle for cementing new relationships.

Here are some examples of information marketing that will inspire the potential client to think of you as a credible resource, even before they meet you in person.

The How-to-Sell-Your-Home Booklet
Real Estate agents can place an ad in the Real Estate section of the local classifieds offering the public a free booklet on how to sell their home quickly, which includes personal techniques that work. This will attract FSBOs and other potential sellers. People greatly underestimate the complexity of selling a home, and through info-marketing the Real Estate agent can become a knowledgeable resource. This is a terrific conduit for establishing new relationships.

The How-to-Diversify Document
Financial planners can place an ad in the Business section of the local paper, offering a booklet that educates consumers on how to properly diversify their portfolio, explains what dollar cost averaging is, and clarifies the difference between fee-based financial planners and transactional-based financial planners. Providing information through free literature encourages the consumer to call for a personal appointment to go into more detail. This also works well in radio spots, by adding a friendly voice to the equation.

The Tax-Law Pamphlet
Certified Public Accountants can offer a free pamphlet on tax law changes, tax ramifications for Living Trusts, and the laws that govern Estate Planning. This provides a great opportunity to become a Trusted Advisor right out of the gate, and start the relationship with a level of deep respect.

Another great way to distribute info-marketing is to make it available through your website. Make sure your prospects fill out a form that allows you to capture their contact information. Make it clear that the information they requested will be delivered by email, so their correct email address is required for fulfillment. Then you can add them to your regular marketing campaigns.
Call me for more ideas about effective info-marketing strategies!
For help or questions contact:
Joe Gonzalez
Senior Loan Consultant -  NMLS #126036
GMH Mortgage Services, LLC
625 W. Ridge Pike, Building C, Suite 100 | Conshohocken, PA  19428 | Direct: 610-355-8039 |  Cell: 610-739-6563