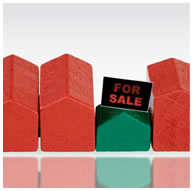 While a short sale may be a last resort for many homeowners facing foreclosure, it also represents a great opportunity for potential home buyers and real estate investors. This article is designed to help answer a few basic questions about the substantial risk and reward involved in this extremely complex and often drawn out process.

What is a Short Sale?

A short sale is a legally-binding agreement to allow a home to be sold for less than the amount that is owed. And, while short sales are not by any means common or easy, because of increasing inventory levels and foreclosures in some parts of the country, lenders are much more eager to negotiate with borrowers who are having trouble paying their mortgages. For potential home buyers and real estate investors, a short sale also offers a great opportunity to purchase property at a significant discount.

However, don't expect a lot of help from the lender without first providing a sales contract from a qualified buyer and all the information required by the lender's loss mitigation department.

Of course, lenders are not looking to bail out "flippers" or other borrowers who simply overextended themselves. In most cases, a borrower must have suffered a serious financial hardship that directly caused him or her to default on the mortgage: the loss of a job, a serious illness, or the death of a loved one.

A written declaration and supporting documentation demonstrating financial hardship will definitely be required by the lender. This may include pay stubs, tax returns, and liquid asset statements, among other documentation.

Key Considerations to Keep in Mind

It's important to note that the difference between what is owed on a mortgage and the final amount the lender collects after the costs of the sale, including real estate commissions and possibly other charges don't simply disappear in a short sale. In the past, this deficiency or "canceled mortgage debt" was considered taxable income to the borrower. However, thanks to the Mortgage Forgiveness Act of 2007, the tax burden for qualifying canceled mortgage debt (as high as 35%) for primary residences only has been temporarily waived until the end of 2009.

If there are multiple liens against the property, all lien holders will have to be involved in the negotiation process, not just the first lien holder. Therefore, communication and patience are essential components of any short sale. This is why an experienced real estate agent and mortgage professional become so valuable to this process.
Call me. Let's discuss how we can market short sales and other foreclosure alternatives to potential buyers and sellers as a unique selling proposition that clearly separates us from the competition.
For help or questions contact:
Joe Gonzalez
Senior Loan Consultant -  NMLS #126036
GMH Mortgage Services, LLC
625 W. Ridge Pike, Building C, Suite 100 | Conshohocken, PA  19428 | Direct: 610-355-8039 |  Cell: 610-739-6563