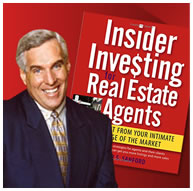 As a real estate agent, your knowledge and experience of the market gives you an insider's advantage over other real estate investors. That's why I'm recommending Insider Investing for Real Estate Agents by Walter Sanford, an informative guide that outlines how you can utilize this obvious advantage to increase your production and turn clients into raving fans for life.

Walter Sanford is a renowned consultant, speaker, and productivity trainer for real estate agents, and he's a top-producing agent as well. Walter built the number one real estate business in Long Beach, California, as well as a thriving consulting firm. For Walter, success in real estate is the direct result of preparation, professionalism, and prospecting, and his pearls of wisdom are exactly what you need to take your business to the next level.

I've said it before and I'll say it again: Knowledge is power! And Insider Investing for Real Estate Agents by Walter Sanford is a clear example of the power of the right information.

But don't take my word for it. Before you invest any serious time reading this book, give me a call. I have a great Gift of Knowledge interview with Walter Sanford on a 60-minute CD that I'll gladly share with you.

Topics include:
Identify motivated sellers with compelling reasons to sell, and avoid taking on clients with cold feet. (Those without a strong desire or need to sell will be less likely to make concessions in a contracting market, will drain your time and money, and will not refer you additional clients.)


Utilize seller concessions to create additional interest in a home.


Discover how Sanford's Counter Offer strategy can create a psychological advantage in today's tougher market.


Learn which short-pay transactions you should be pursuing and which ones you should avoid altogether. (In the tough real estate market of 1995, 70% of Sanford's business consisted of short-pays.) This can be a valuable niche to increase your production.
You can listen to it in the car or while you're at the gym, and it won't cost you a thing!
Give me a call today to request a copy of this valuable interview.
For help or questions contact:
Joe Gonzalez
Senior Loan Consultant -  NMLS #126036
GMH Mortgage Services, LLC
625 W. Ridge Pike, Building C, Suite 100 | Conshohocken, PA  19428 | Direct: 610-355-8039 |  Cell: 610-739-6563