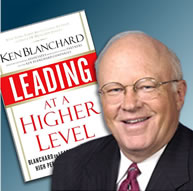 Few people have impacted the day-to-day business management of people and companies like Ken Blanchard, the prominent, gregarious, highly sought-after author, speaker, and business consultant. Co-author of The One-Minute Manager, which has sold over 12 million copies, Ken's books make up the core curriculum of anyone eager to succeed in the business world.

For Blanchard, personal success is a journey toward significance, and success in business is a direct measure of your generosity of time and talent. It's understanding that service is more important than recognition; that loving relationships are more important than status. It's knowing that you will be remembered, not simply for the accumulation of money and things, but for how you lived your life each day.

That's the uplifting message at the heart of Leading at a Higher Level, a book I highly recommend as part of The Power Reading Series. The book is broken into three sections, but mostly focuses on the last topic, which is about treating your people right. Blanchard argues that if you treat your people right, they'll treat your customers right and work toward your target and vision. And that's what leadership really is.

It's important to know that Ken Blanchard is not your typical business writer. Many of Blanchard's bestselling books, including this one, are written as parables, short powerful stories that teach even more powerful lessons. Believe me, you won't want to put it down.

But, before you go out and invest your time and money in this book, I have a great interview with Ken Blanchard on CD that discusses the two of the most overlooked and abused concepts in business today: service and leadership. It's called Selling, Service, and Implementation, and if you'd like a copy of the CD, just give me a call. I'll gladly share this or any other ideas that might help us increase our businesses together.
For help or questions contact:
Joe Gonzalez
Senior Loan Consultant -  NMLS #126036
GMH Mortgage Services, LLC
625 W. Ridge Pike, Building C, Suite 100 | Conshohocken, PA  19428 | Direct: 610-355-8039 |  Cell: 610-739-6563