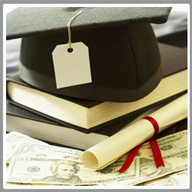 You've heard about the Credit Crunch and its tightening effect on lending guidelines in the mortgage industry, but what does it mean to millions of Americans who need student loans to help pay their college tuition?

The student loan market looked pretty bleak during the first quarter of 2008. Not only did the reduced benefits created by the College Cost Reduction and Access Act in 2007 kick in, but for the first time in 40 years, no bonds backed by student loans were purchased during this time. The new bill, which was good news for students, was funded by cutting subsidies to student lenders already feeling the effects of the credit crunch. According to Forbes, this loss of liquidity spooked a lot of investors of the student loan asset-backed securities market, destabilized Sallie Mae, the largest federal student loan provider and servicer, and sent student lenders into turmoil, as at least 50 federal student loan providers scaled back or ended participation in this type of lending.

Since then, Congress has passed legislation and taken other measures to ensure that student loan companies continue to issue federally subsidized student loans. Now, according to the National Association of Student Financial Aid Administrators (NASFAA), most "traditional" students should have no problem getting federal student loans from the remaining 2,000-plus lenders participating in this market.

For those students forced to seek private or alternate education loans, however, this is a much different story. NASFAA says many students could have trouble getting these types of student loans. Because of this, NASFAA added that private student loans should only be used as a last resort when it comes to paying for college.

Which students are affected?
Students attending smaller schools and for-profit career or trade colleges, or other institutions that rely heavily on private lenders, will find it more difficult and expensive to gain access to private student loans than they have in the past - especially if they have credit issues.


Older students, students with poor credit, or those students without a creditworthy co-signer (e.g., mom and dad), are likely to pay higher rates for whatever private student loans they are able to find.


Students whose college tuition is more than their federal loans provide could also be affected if a) a private loan is necessary to make up the difference or b) the student does not qualify for Federal Perkins or PLUS loans or other types of financial aid programs.


It's important to note that financial aid, including Pell Grants, Federal Work Study, and education tax benefits are not affected by the Credit Crunch.
The biggest mistake students and parents can make in these situations is loading up credit cards and taking on expensive private loans to pay for college. Over the course of four or five years, this could really add up and put you or your children in debt for years to come. If you're a homeowner, however, you may be able to avoid this credit trap by consolidating credit card balances and other debt through a home refinance.

Before you make any major credit decision regarding college tuition, give us a call. We'll gladly review your finances and help you make the best decision for your specific goals and needs.
For help or questions contact:
Joe Gonzalez
Senior Loan Consultant -  NMLS #126036
GMH Mortgage Services, LLC
625 W. Ridge Pike, Building C, Suite 100 | Conshohocken, PA  19428 | Direct: 610-355-8039 |  Cell: 610-739-6563