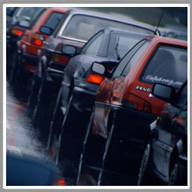 The average commute time in America is about 24 minutes each way, according to recent reports from the Census Bureau. That means Americans spend about 48 minutes travelling to and from work each day. And, if we work about 245 days a year, that adds up to a total of 196 hours a year! That means, on average, we spend more than 8 full days just sitting in our cars each year. Imagine what you could accomplish if you could only get half of this time back.

Of course, no one can turn back the clock, but almost everyone can make more of the time we have, even during our commutes. Here are a few ideas for making the most of your time on the road:

Don't just fill up the tank. Fill up your brain too - Audio books are becoming more and more popular, and almost every publisher is taking advantage of this trend. Not only can you find your favorite novels on CD, business books and other non-fiction publications are available as well. Even some magazines, like The Economist, have audio versions of their publications.

Imagine sitting in traffic and learning another language or listening to a series of lectures from the top universities in the country. You could also load up your iPod or MP3 player with all sorts of great material from your favorite websites. Your local library has a great selection of free audio books, and new text-to-speak technology can turn almost any book into hours of learning material.

Put yourself in the driver's seat - What if you got to work and a list of everything you had to do that day was there waiting for you, typed out and sitting on your desk? Well, with services like CopyTalk and Jot Spot, this is possible.

Using your hands-free cell phone, call one of these mobile scribe companies while you're in the car and everything you say will be typed and emailed to you by the time you get to work. Plus, by getting all of your nagging to-dos out of your head, you'll be more able to focus on your audio books. This is also a great, and much safer way, to brainstorm and work out the finer details of those amazing ideas that only seem to come to you while you're in the car. If you don't want to pay for this service, you could just call your voicemail directly with the same information. Do this on the way home and you could keep a detailed record of your day and free your mind for the drive home.

Get the right balance - Another great use of your time in the car is to focus on your work/life balance. Now that you've recorded your day and freed your mind of work, why not use this time to focus on the important people in your life. A lot of us tend to wait until we get home before we "unwind" and to create that all important separation of our work and home lives - but we can just as easily do this in the car. What if you called your spouse or your children on your way home and asked about their day? You could also call your parents or siblings or catch up with old and new friends. Do this frequently and, suddenly, creating the right work/life balance will become much easier, and so will your commute.

If you have any tips for a more productive commute that I should add to my list, please give me a call.
For help or questions contact:
Joe Gonzalez
Senior Loan Consultant -  NMLS #126036
GMH Mortgage Services, LLC
625 W. Ridge Pike, Building C, Suite 100 | Conshohocken, PA  19428 | Direct: 610-355-8039 |  Cell: 610-739-6563