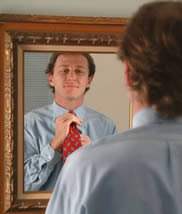 Before your next meeting with a prospective client or potential referral source, take a long look in the mirror and ask yourself, "If I was a prospect, would I want to do business with this person?"

The image you create, and the way people perceive you, has a tremendous impact on your long-term success. What you say, how you dress, your level of preparation, and your enthusiasm all influence your potential customer's perception. The old adage is true, "You never get a second chance to make a first impression."

Evaluate your image and ask yourself a few simple questions:

When your client calls, how are they greeted? Is your receptionist both friendly and professional? Is your voicemail system prompt? Does your personal message portray your professionalism and exceed the caller's expectations? How soon do you return calls?

When the client first enters your office, what impression are they given? How long must they wait to see you? Do you roll out the red carpet and offer a selection of beverages? Are you prepared for the meeting?

Do you follow up with a personal hand-written note card after every meeting? Begin your follow-up campaign by sending a thank-you note to the client showing your appreciation for the opportunity to meet with them.

Is your marketing collateral unique? Make sure you stand out from the competition with marketing materials that "WOW" the prospect, especially if their first impression of you will not come from a face-to-face meeting. People are naturally attracted to confidence. Knowing your product and being a student of your craft will result in a high level of self-esteem. This, in turn, projects a highly compelling and magnetic image.

Now, get back in front of that mirror and ask yourself the question, "Would I want to work with this person?" If the answer is still no, start diving into the areas of your image that need improvement.
For help or questions contact:
Joe Gonzalez
Senior Loan Consultant -  NMLS #126036
GMH Mortgage Services, LLC
625 W. Ridge Pike, Building C, Suite 100 | Conshohocken, PA  19428 | Direct: 610-355-8039 |  Cell: 610-739-6563