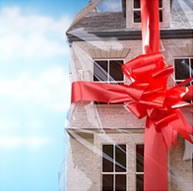 Sometimes, a simple note is not enough to show your gratitude. Housewarming gifts are a great way to remind your clients that you're there for them, long after the paperwork is done. And, like business cards or branded mailers, these gifts are another way to market yourself to potential clients and their referrals. The following are a few great closing gift ideas your clients will talk about to everyone they know:

Decorated Dinnerware - A flock of pottery shops have sprung up across the country where you can paint ceramic pieces from little statues to plates and coffee mugs to giant cookie jars. Register your clients at one of these stores, so they can decorate their own dinnerware. Every time they use these items, they'll think of how you helped them reach their dream of homeownership. For a state-by-state list of these businesses in your area, visit www.paintyourownpottery.net.

Services Directory - If your clients are new to the area, why not compile a directory for them as a unique closing gift. Imagine a book that lists and even maps out all of the restaurants, markets, gas stations, movie theatres or playhouses in their neighborhood. Include business cards from emergency services like a plumber, electrician, landscaper, and handyman and create some outbound referrals. Be sure to brand the book with your contact info because this book just might become their go-to guide for all of their home and entertainment needs.

Basket of Goodies - Instead of the typical basket of fruit many agents give their clients as a closing gift, try something different. Fill a basket with pancake mix, muffin mix, jam, Earl Grey tea or coffee, a couple mugs, a spatula, oven mitts and anything else they might use in the kitchen. Each time your clients cook breakfast, bake a cake, or just relax with a hot cup of coffee or tea in their new home, they'll remember you and the great service you provided.

Memory Mug - Here's a great and inexpensive closing gift your client will never forget. Take a picture of their new home and add to it their name and the date that they purchased the home. Then put the picture into one of those customizable coffee mugs and give it to your client with a coffee gift card or a pound of coffee, tea, or hot cocoa. Again, you can add your name and logo to the back of the mug, and your client will think of how you helped them obtain their dream home every time they take a sip.

Free Magazine Subscription - Not only do magazine subscriptions make a great closing gift, they're also a great marketing tool. Each month for the next year, your clients will think of you every time they get their latest issue in the mail. Some companies, such as www.magazineclosinggift.com, will allow you to add your name, logo, or even a message to the magazine subscription of their choice. Many subscriptions are less than $20, so it's inexpensive too. During the transaction, try and learn about your client's interests and hobbies. This will show them how much you care, and it will help you select the right magazine subscription as well.
If you have any special closing gifts that you send out to your clients, please call me and let me know!
For help or questions contact:
Joe Gonzalez
Senior Loan Consultant -  NMLS #126036
GMH Mortgage Services, LLC
625 W. Ridge Pike, Building C, Suite 100 | Conshohocken, PA  19428 | Direct: 610-355-8039 |  Cell: 610-739-6563